THIS DAY March 12
Posted by Shiva on March 11, 2009
March 12, 2009: Luton , Britain. Brave soldiers back from Iraq were forced to endure a tirade of abuse yesterday — from hate-filled BRITISH moslems. Fifteen fanatics staged a sickening protest — sanctioned by police — as 200 Royal Anglian troops marched in a welcome home parade.
They wielded banners branding the soldiers butchers, war criminals, murderers, terrorists — and baby killers. They brandished placards showing obscene photos of mutilated children. And they yelled: "Anglian soldiers go to hell."
Onlookers … a group of burkha-wearing moslem ghouls , one taking photographs, at the parade
Great Britons … well-wishers salute Royal Anglian troops in march through Luton
Hate Britain … mob stages vile demo
Abuse … fanatics yell at soldiers as they parade through streets
The demo triggered fury among thousands of well-wishers who turned out to salute the troops in Luton, Beds.
Two people were arrested in the heated demos. One an 18-year-old man was today charged with racially aggravated harassment. The second aged in his 40s, was handed a fixed penalty notice.
One of those arrested was a man who climbed on to a shopping centre roof to throw a packet of bacon at the fanatics.
March 12 2009: Sepang, Malaysia. A woman, who is in her fifth month of pregnancy, was assaulted and raped by two men after being abducted near her home here on Wednesday. The 18-year-old woman suffered bruises and cuts and is warded at Serdang Hospital.
The incident occurred on Wednesday night when the victim was leaving her house in Tanjung Sepat on a motorcycle. A car stopped in front of her. Three men alighted, dragged her off the motorcycle and bundled her into the car.
They took the woman to an oil palm estate in Sungai Pelik where four other suspects were waiting, including her boyfriend. The woman was shocked to see her boyfriend and asked what was happening.
Two of the suspects then grabbed her, assaulted her and ripped off her clothing. The two took turns to rape her while the boyfriend watched impassively. When the ordeal was over, she was asked to leave.
The victim walked out of the estate and stopped a passing motorist who took her to a police station. She lodged a report and was taken to the hospital. Sepang police chief Superintendent Zahedi Ayob said police had identified two suspects and their photofits had been distributed to all police stations
March 12 2009: Kuala Lumpur, Malaysia. Former Prime Minister Tun Dr. Mahathir Mohammad (who was also education minister previously) said in 2004 that Malay graduates tend to have low employment rates because "the Chinese graduates choose the right subjects so they are employable. We find that the Malay graduates, especially those from the Malay stream, can't speak English at all. No matter how much value you put on a certificate, the fact remains that an employer wants somebody with whom he can communicate. The employer is not Malay, he is a foreigner. And if he's not going to be able to communicate with you, he will not take you."
Furthermore, the Malay students, with Government-issued scholarships and study loans, tend to take up subjects like Syariah Law, Islamic History and other Islam-related subjects. Instead of choosing to learn English and taking up subjects that are of more secular tangible benefits (e.g. Engineering, Medicine, etc.) some have gone to great lengths to further their studies in Middle Eastern countries, learning Arabic in the process. Even so, this has not always been to the benefit of the students.
In June 2006, it was revealed that a batch of 169 students sent to the Al-Azhar University in Cairo had difficulties with the Arabic language, resulting in only 5 students making it through their course.[11] The Prime Minister, Datuk Seri Abdullah Ahmad Badawi, had strongly criticized this trend among Malay students to choose "simple subjects" which are worthless in the job market

March 12 2009: police fired tear gas to disperse more than 2,000 Malaysians who tried to march to the national palace on Saturday to protest the use of English to teach math and science.
Protesters run away from tear gas fired by Malaysian riot police during a protest against the use of English to teach math and science
The demonstrators sought to submit a petition to the country's king to demand that the national Malay language be reinstated in schools for the two subjects – a sensitive issue for the ethnic Malay majority.
Many Malay teachers and linguists complain that a six-year-old policy of using English has hurt efforts to modernise their mother tongue and to develop a scientific lexicon in Malay.
The protesters marched through busy traffic, chanting 'Long live the Malay language!' for about half an hour after gathering at Kuala Lumpur's main mosque. Police then fired several rounds of tear gas, causing them to scatter.
Police have closed off one road, and some protesters appear to have given up and are heading back to the mosque to re-group.
NOT ALL ASIANS ARE MOSLEM
The Bombay Stock Exchange minutes after a bomb exploded in its premises on March 12, 1993.
Century Bazaar at Worli was the worst affected spot in Mumbai (then Bombay) after a bomb went off in a jeep placed near the Passport Office
The remains of the jeep in which the bomb was kept near the Passport Office at Century Bazaar in Worli.
Ruined gargoyles stare at an uneasy future after a bomb exploded at Plaza Theatre in Dadar on March 12, 1993.
This is how the Passport Office looked like after a bomb went off in a jeep at Century Bazaar in Worli on March 12, 1993.
A scene from a taxi parked outside Zaveri Bazaar on March 12, 1993, where one of the bombs exploded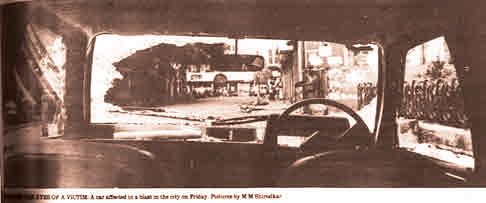 The culprits just happened to be ?
Thats right!
FOLLOWERS OF MO
Now lets see what the Moslems where up to before this display of islamic peace
March 12, 1971: In Pakistan, two bombs were thrown into the ground floor of the building housing the U.S. Consulate in Dacca.
March 12, 1973: Palestinian Black_September terrorists murdered an Israeli businessman in Nicosia, Cyprus. The victim was subsequently branded by Cairo's Fedayeen radio as a "Zionist intelligence officer." He was found shot and killed on the steps of the Nicosia Palace Hotel. The PLO/Fatah implement, Black_September claimed responsibility.
March 12, 1978: In a 2-for-1 mission, Muslims attacked a school and Americans at the same time. They bombed the car of the principal of the Tarsus American School in Adana, Turkey. Fortunately for the principal, the perpetrators of the Islamic version of a tack on a chair, managed to only blow off the car's fender and break some windows of nearby buildings. A typed note sent to the school signed by "TIP," stated that more bombs had been placed throughout the school's campus. None were found and there is no known group that goes by "TIP," so maybe it's an abbreviation for "Terrorize Infidel Principals.".
March 12, 1978: In the Netherlands, Marines stormed a government complex in the northern Dutch city of Assen. They freed 70 hostages held by three Moluccan men. The gunmen called themselves the South Moluccan Suicide Commando.
One person was killed and four others were injured in the initial assault as the Moluccans stormed into the administrative building. Once inside, the young men captured 70 civil servants and offered to exchange them for the release of 21 jailed comrades, a plane out of the country, and a $13 million ransom. Premier Andries van Agt refused. So when the deadline passed and the terrorists pretended to kill a hostage, 60 Dutch marines entered the government complex, overpowered the gunmen, and captured their victims unharmed. The three perpetrators were sentenced to 15 years in prison.
March 12, 1987: In Jordan, PLO leader Attalah Muhammad was wounded during an assassination attempt. The attack was triggered by a split in his own movement.
March 12, 1988: A Pakistani air marshal was shot and wounded by a hijacker trying to divert a Pakistan International Airlines flight. There were 143 passengers and 13 crew aboard. The jihadist wanted to go to Afghanistan. The assailant was subdued during a cabin brawl by passengers and another security guard.
March 12, 1991: An American Air Force sergeant was killed in Greece by a powerful remote-controlled bomb as he walked to his home in Glyfada. The November 17 Marxist Muslim Organization said that they killed the sergeant to avenge Iraqi dead in the Persian Gulf War. They vowed to attack more Americans vacationing in the Greek islands.
March 12, 1991: The OPECers thanked the U.S. for returning the property they had stolen, by announcing production cuts to 22 million barrels a day. Their resumed control over crude would fuel countless acts of terrorism, all financed by the Islamic warlords who controlled OPEC. 9/11 and the development of nuclear bombs would be the direct legacy of this turn of fortune.
March 12, 1991: Islamic jihadists opened fire on three U.S. Marines in Jubail, Saudi Arabia.
March 12, 1993 Bombay hit by devastating bombs.
At least 200 people have died and 800 have been injured after 13 bombs exploded in Bombay.
At 1:30 p.m. a powerful car bomb exploded in the basement of the Bombay Stock Exchange building. The 28-story office building housing the exchange was severely damaged, and many nearby office buildings also suffered some damage. About 50 were killed by this explosion. About 30 minutes later, another car bomb exploded elsewhere in the city, and from 1:30 p.m. to 3:40 p.m. a total of 13 bombs exploded throughout Bombay. Most of the bombs were car bombs, but some were in scooters.
Three hotels, the Hotel Sea Rock, Hotel Juhu Centaur, and Hotel Airport Centaur, were targeted by suitcase bombs left in rooms booked by the perpetrators. Banks, the regional passport office, hotels, the Air India Building, and a major shopping complex were also hit. Bombs exploded at Zaveri Bazaar, area opposite of Century Bazaar, Katha Bazaar, Shiv Sena Bhawan, and Plaza Theatre. A jeep-bomb at the Century Bazaar exploded early, thwarting another attack. Grenades were also thrown at Sahar International Airport and at Fishermen's Colony, apparently targeting Hindus at the latter. A double decker bus was very badly damaged in one of the explosions and that single incident accounted for the greatest loss of life – perhaps up to ninety people were killed.
Buildings attacked include
Bombay Stock Exchange Building
Hotel Sea Rock
Hotel Centaur, Juhu
Hotel Centaur, Santa Cruz
Plaza Cinema
Shiv Sena Bhawan
Zaveri Bazaar
Area opposite of Century Bazaar
Passport Office
Air India Building
Sahar Airport
The Islamic perpetrators fled to Dubai, in the United Arab Emirates. As the evidence was uncovered, it became clear that Pakistani Islamic terrorists, sponsored directly by the government, were responsible for the reign of terror.
March 12, 1994: Marxists stormed into the Ba'hai church in East London, South Africa during a worship service. After separating the only three white congregants from black Christians, the Communists shot and killed them. Two of the victims were Assyrian Christians from Iran who had lived in South Africa for many years. The third victim was a visiting American citizen.
Responsibility for the murders was claimed by the Azanian National Liberation Army and by the Azanian People's Liberation Army.
February 12, 1996: Bosnian Muslims attempted to assassinate a EU administrator in Mostar. The armed protesters were advocating ethnic and religious autonomy between Serbs and the Bosnian Muslim-Croatian Catholic federation.
March 12, 2000: In Islamic Algeria, Muslim militants killed one and wounded 13 by bombing a market in Abou El Hassen.
On This Day Since 9/11
March 12, 2003: Kashmir, India. Four civilians are abducted and murdered by the Mujahideen in separate attacks.
March 12, 2003: Karimabad, Pakistan. A Shia doctor is gunned down outside his clinic.
March 12, 2003: Metzuba, Israel. Gunmen disguised in IDF uniforms ambush a bus and kill six, wound seven

March 12, 2004:Kashmir, India. Separate Mujahideen attacks in Kashmir leave two policemen dead and two more injured.
March 12, 2004: Pulwama, India. Muslim militants hole up inside a girl's school after a gun battle with police. Thirteen people are killed, and at least a dozen wounded in this and incidents in a 24-hour period.

March 12, 2005: Bouira, Algeria. Islamic extremists set up a fake roadblock, then machine-gun two policemen to death in their vehicle.

March 12, 2006: Kader, India. A boy is abducted and beheaded by the Mujahideen
March 12, 2006: Baghdad, Iraq. A paint shop is the target of a terror blast as eight bodies are found bound and executed elsewhere in the city
March 12, 2006: Baghdad, Iraq. al-Qaeda suicide bombers tear apart forty-four poor Shias living in a slum in two separate market attacks. About two-hundred others are injured. Eight are hanged or beaten to death in revenge
March 12, 2006: Pattan, Thailand. Islamic militants kill a 44-year-old Buddhist as he is riding his motorcycle. They also bomb a Buddhist temple, injuring a young girl and her mother
March 12, 2006: Baghdad, Iraq. Jihadis kill six civilians with a remote-controlled bomb and shoot two policemen to death in a separate attack.
March 12, 2006: Kabul, Afghanistan. A Fedayeen suicide bomber attempts a political assassination. Two people are killed in the blast.
March 12, 2006: Kunar, Afghanistan. Four American soldiers are killed by a remote-controlled blast while on security patrol to protect civilians from Taliban attacks.
March 12, 2006: Madakhel, Pakistan. A civilian is abducted, tortured and killed by Muslim radicals.
March 12, 2006: Kabul, Afghanistan. Suicide bombers kill a young girl on her way to school and a man on a motorbike
March 12, 2006: Anghar, Pakistan. Islamists kill a man and pin a note to his body

March 12, 2007: Iskandariya, Iraq. Jihadis mortar a soccer field, killing two boys.
March 12, 2007: Mogadishu, Somalia. Islamic militias attack Ethiopian troops. A boy and a woman are killed in the crossfire.
March 12, 2007: Bakwa, Afghanistan. Religious extremists blow up an Afghan police convoy, killing nine officers.
March 12, 2007: Mogadishu, Somalia. At least one person is killed when an Islamist tosses a bomb into a restaurant.
March 12, 2007: Pattani, Thailand. Islamists set off a bomb, injuring ten people, behead a migrant worker and shoot two more to death.
March 12, 2007: Dera Ismail Khan, Pakistan. A Shia rickshaw driver is gunned down by Sunni radicals
March 12, 2007: Baghdad, Iraq. Fifteen victims of sectarian hatred within the Religion of Peace are found around the city.
March 12, 2007: Jandola, Pakistan. al-Qaeda militants kidnap and behead a civilian.
March 12, 2007: Kirkuk, Iraq. Four firemen are killed by Islamic terrorists in a bombing.
March 12, 2007: Belod, Pakistan. Two men and a woman are shot and stoned to death for adultery by the Lashkar-Islam group.

March 12, 2008: Baghdad, Iraq. Islamic militants detonate a bomb in a residential neighborhood, killing two people.
March 12, 2008: Benazid, Iraq. Five Sunnis are shot and beheaded by al-Qaeda.
March 12, 2008: Kandahar, Afghanistan. A passing truck driver is killed by a suicide car bomber along a city street.
March 12, 2008: Swat, Pakistan. Two security personnel are killed by Islamic bombers

2 Responses to "THIS DAY March 12"
March 11, 2009 at 1:20 pm

We may find the opinions objectionable but we must protect their rights to free speech.

March 11, 2009 at 2:35 pm

BS"D

If you read "The Closed Circle" by David Pryce-Jones, you will find that consistency in thinking and an appreciation for the right of free speech are not highly valued in most Muslim/Arab societies.

It is an honor based society, with the Muslim/Arab always being deemed deserving honor, the unbeliever (infidel) little to none. The strongman within that culture is considered worthy of ultimate honor, even if he abuses his people. If the strongman/leader within a Muslim/Arab culture chooses to remain modest, not flaunting his power and wealth, he is considered unworthy of his position.

No matter the reason for the British soldier entering into Muslim/Arab lands, humanitarian or otherwise, as an infidel, he has brought shame to that Muslim/Arab society that must be avenged.

Right or wrong, that's pretty much the problem in a nutshell. The world of Islam shares very few values with Western culture, and the sooner we get that into our heads the better off we will be — in protecting our own culture.