THIS DAY March 10
Posted by Shiva on March 9, 2009
.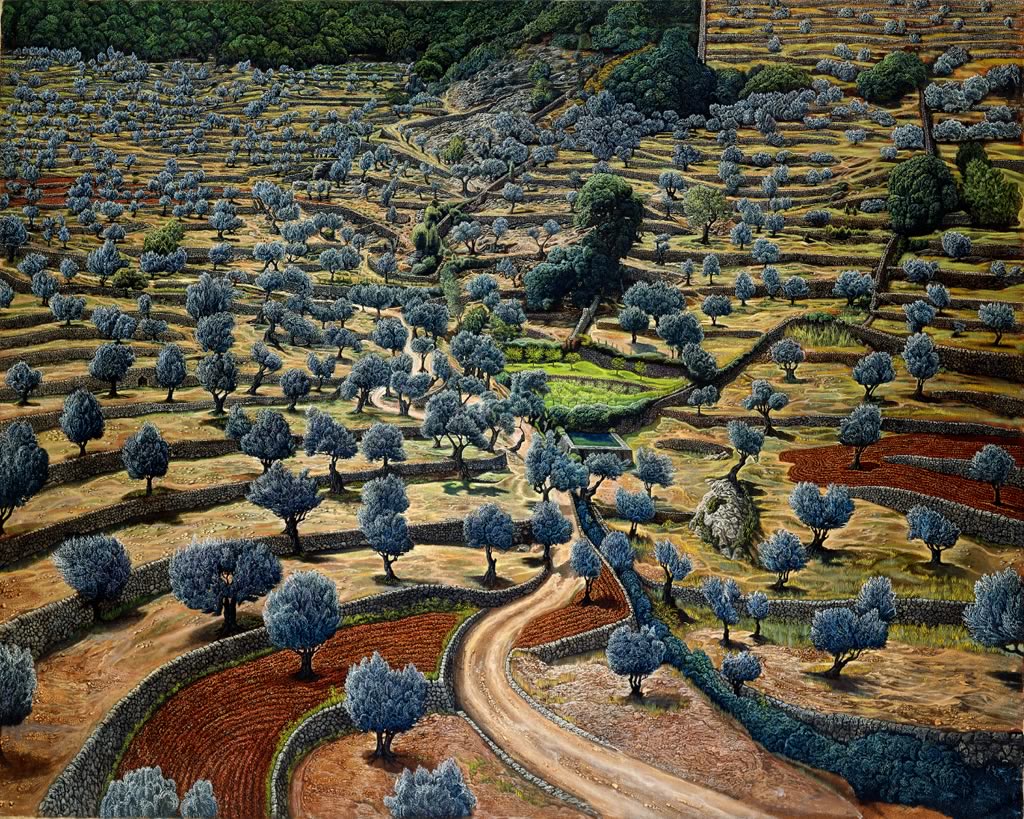 Even if I hadn't been a camouflage officer in the Israeli army at the tender age of 16 during the siege of Jerusalem of 1948, I would have been able to tell you that 600 km under the serene mountain of olive trees and terraces of my real estate lurks the most powerful bomb in the world exploding away like there was no tomorrow.
A true citizen of the world, Mati Klarwein did not have strong roots in any one country. Born of Jewish parentage in pre-war Germany, he escaped with his parents, to Palestine, when just two years old, where he later adopted the name Abdul as a gesture of empathy with his Arab neighbours. Growing up as a Westerner in what was then Palestine (later Israel), Mati was always something of an outsider and never knew the comfort of an unchallenged belief system. Perhaps no surprise then that in his work he likes to challenge our assumptions on everything from religion and sexuality to the perceiver and the perceived.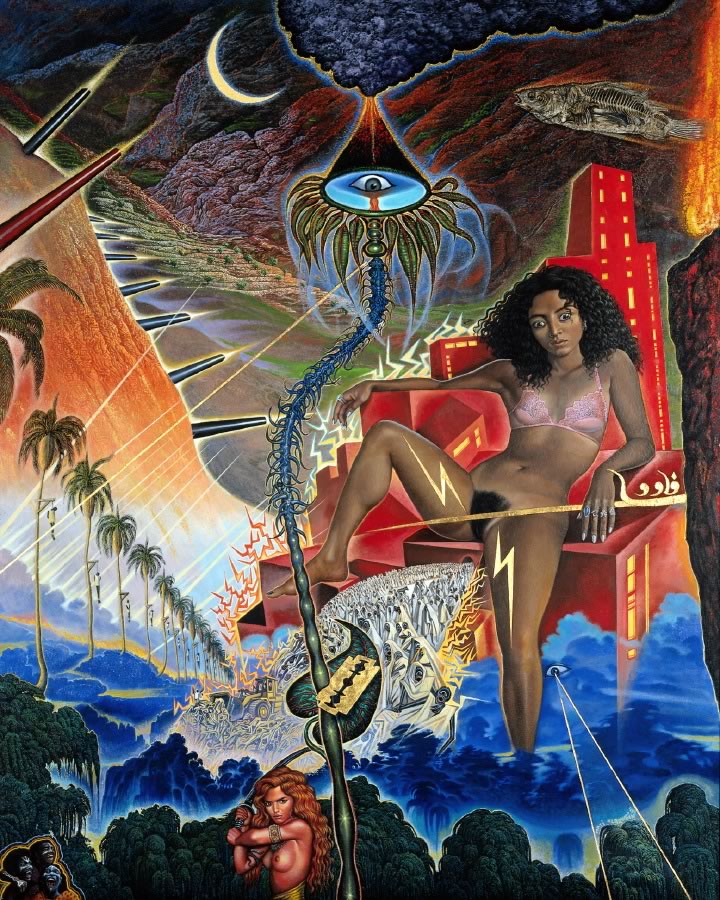 Mother nature seems to love being whipped and mutilated by us humanoids and vice versa (otherwise why would she have bothered to create us?) so we take turns whipping and mutilating each other, as they say: He who whips longest laughs last. Nothing else matters, really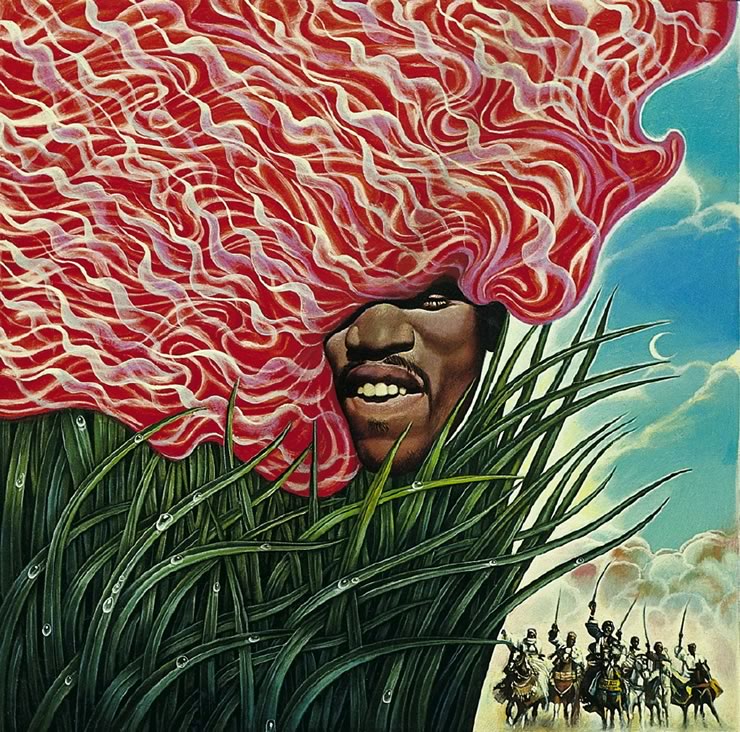 Jimi Hendrix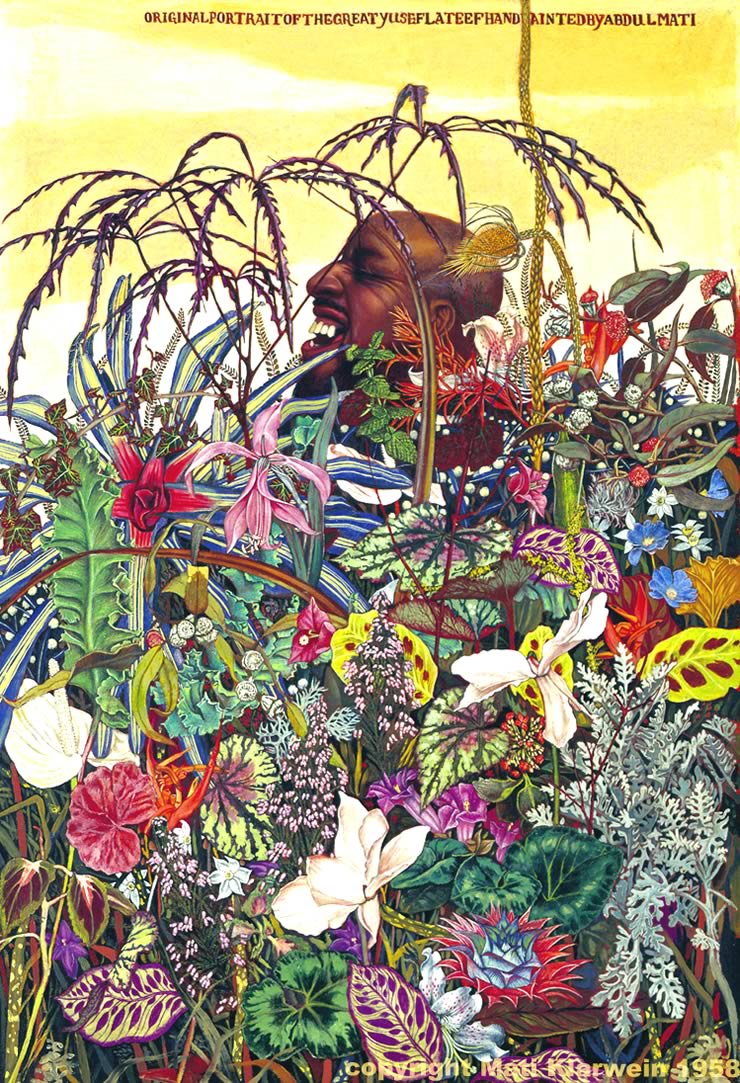 In the fifties, jazz was the exciting music of the moment – Charlie Parker, Miles, MJQ, Gerry Mulligan. But for me, that which I could identify with most was the influence of arab and african music and culture in black american music – the move toward a separate cultural identity, away from the white trash rectangular music. It started with the substituting of christian names by muslim ones. There was Ahmed Abdul Malek on the Oud with his Jazz-Sahara music, and there was Yusef Lateef, experimenting with flutes, reeds, bottles, balloons, home made string instruments and the use of fake arab words. I would spend hours in Paris and Harlem looking for his records. Here's another reverse example – instead of a record album using my painting, I use an album cover photo for my painting.
When the painting was completed I sent Yusef a photo of it and signed it with Abdul Mati Klarwein. He replied promptly with a 'dear bro' letter, saying he would use it as soon as he could for an album cover. Six months later I found myself in N.Y. listening to him play at the Five Spot. During a break I went over to his table and introduced myself. He looked at me with disdain and hardly greeted me. When I told him I was the artist who did the painting he sneered and turned his back to me, resuming his conversation with a friend. I forgot that love between colors is not always mutual.
Mati Klarwein.
March 10,2009:

Luton Britain.
A Muslim police officer claims he was forced out of his job by colleagues who made fun of his beard and called him a 'f***ing Paki'. PC Javid Iqbal, 38, said white officers openly discussed in front of him how they were ' better' than their ethnic-minority colleagues. The married father of two also claims officers pulled faces at each other if told they had to go out on patrol with him and forced him to walk home from a job instead of picking him up.
PC Javid Iqbal: 'My beard is an important part of my identity'
Mr Iqbal says he was sacked after fellow-officers in Luton launched a 'smear and witch-hunt campaign' during which they lodged a string of complaints about his performance.
He is taking the Bedfordshire force to an employment tribunal claiming he is the victim of racial and religious discrimination and unfair dismissal.
Mr Iqbal, who was born and raised in Stevenage, Hertfordshire, told the Daily Mail: 'My beard is an important part of my identity which helps other Muslims relate to me. 'I am disgusted that I was bullied by other officers because of my beliefs.
I became a policeman because I believed in putting something back into society. Mr Iqbal was working in Hertfordshire County Council's finance department when he became a special constable for the Bedfordshire force, one day a week.
Following the 7/7 bombings in London in 2005, he volunteered to go on patrol every night after work for two weeks to help reassure the large Muslim population of Luton, who were concerned about revenge attacks.
In October that year he was accepted on to a training course to become a full-time constable. He says the first racist incident came in early 2006. He claims he was in a van with seven PCs and three 'tutor' constables – including one other Muslim – which stopped for food at a shop which did not sell halal products. When he asked if they were stopping anywhere else, he was told: 'This is it.'
One officer allegedly mimicked his accent and pretended to have a beard similar to his in an ' offensive' incident.
Matters worsened in September 2006 when eight officers presented 'negative statements' to superiors about Mr Iqbal, including an allegation that he failed to help a colleague arresting a violent offender.
But relations with fellow officers hit a new low in February 2008, three months after he officially lodged his grievances. A sympathetic officer told him the document had been left in the duty room where anyone could read it.
Subsequently, he said, an officer had openly referred to him as a 'f***ing Paki'. Mr Iqbal had only recently returned to work after a nine
month leave of absence on full pay owing to depression when he was sacked for poor performance in August last year. He says he was the victim of untrue allegations, such as failing to report a rape claim. He insists the woman complained only of harassment at the time.
March 10, 2009:

London, Britain,
A budding James Bond who applied for an MI5 job tailing suspects despite being in a WHEELCHAIR is suing spy chiefs for £363,000 after they turned him down.Paralysed dad-of-three Sajad Suleman, 35 — who suffers from rare Guillain-Barré syndrome —
was among 1,092 applicants for the role of "mobile surveillance officer". He fumed yesterday: "They could have concealed a camera or microphone in the wheelchair. I should have got the job."
His discrimination claim has already been thrown out by a London employment tribunal — but he is appealing. MI5 branded the battle by the ex-bus driver from Wembley "misconceived". Suleman, a Muslim, said he wanted to protect Britain and to take a stand against extremists.
He has been unemployed since 2005 after he contracted Guillain-Barré syndrome working as a union rep at Metro line bus company
MI5 and TMP dismissed his allegations, saying Suleman did not fulfil the driving requirements and was immediately rejected.They said it had nothing to do with his disability, race or trade union affiliation and added the claim was "misconceived".
The average cost of defending a claim has been estimated at £9,000. Suleman, who receives housing, incapacity and child benefits, represented himself in five Case Management Discussions
A Muslim policeman suing Scotland Yard for racial discrimination was sacked after boasting that he beat up a homeless man 'good and proper', an employment tribunal heard today.
Asad Saeed was accused of dragging the vagrant out of a McDonalds and threatening him during only his fifth night on patrol as a Police Community Support Officer.But the 35-year-old claims he was 'fitted up' over the alleged assault by two racist white officers.
The men invented the story after he threatened to expose the 'apartheid' culture at Belgravia police station in central London where there were separate vans for white and black officers, he said.
However, Mr Saeed's immediate superior, Inspector Debbie Jallali, said in a statement that the day after the alleged assault he told her: 'I done the homeless man good and proper.'The PCSO denied the claim and said that Inspector Jallali had been 'watching too many excerpts of EastEnders'.
He told the hearing: 'She's lying. When you have not done anything, why would you say to someone 'I done him good and proper'?
'Mr Saeed claimed at least seven other officers had also lied in official statements into the alleged assault and his claims of racism as part of the conspiracy to get him sacked.The other 'liars' included an Asian sergeant and a black PCSO, who denied his claims about separate vans for white and black officers.
Mr Saeed said: 'This is the way the Met works. You have to be one of the boys, you have to tow the party line.'
There are those like me who resist, and those who just carry on.'Mr Saeed said he quit a job earning twice as much as a warehouse distribution manager to become a PCSO in January 2007.
He said: 'As a Muslim Asian I wanted to give something back after the London bombings. I felt that I could put a bit of faith into the community.
It wasn't about the money anymore.'But after the allegation of assault in February 2007 he was suspended and later sacked.He was reinstated after an appeal, but with three reprimands left on his record, meaning he would be unable to become a full police constable
.Mr Saeed, who is now working as a support officer in North London, is claiming compensation over how the assault charge was handled.An internal Scotland Yard investigation found evidence of racist bullying at Belgravia police station, including the allegation that one white officer vowed to 'bring down all the lazy blacks, one by one.
'Gold Diggers Jihad In full Swing
A MUSLIM chef employed by the London Metropolitan Police is suing for religious discrimination after he was asked to cook sausages and bacon.
Hasanali Khoja has accused Scotland Yard of refusing to guarantee he would not have to handle pork, which is forbidden in Islam.
He said it was suggested he wear gloves when cooking pork products.
The 60-year-old chef claimed the problem began when he was asked to move from his position as senior catering manager at Hendon Police College in North London, where he had been excused from touching pork.
In his new role at the Empress State Building in West London, occupied by Metropolitan Police staff, he was expected to make breakfasts consisting of sausage, bacon and black pudding.

He is now back at work at another Met building where he does not have to handle pork, but has been downgraded to higher catering manager.
Mr Khoja said yesterday: "I felt very unhappy about it. I was very upset and angry because it is not permissible in my religion.
March 10, 2009: Allahabad, India. Two years after the sensational gang rape case of two inmates of Jamiatulswalehat Al Islamia Madrasa in Allahabad, the five men who had been named accused by UP Police were released from jail on Sunday after a local court found no evidence against them.
The case — a comment on the functioning of the UP police — had rocked the state when inmates complained that three men had abducted two girls of the madrasa on the night of January 17, 2007.
Following this, the police came under attack for its dubious role in the matter. They, however, arrested five men —all people of modest means who earned their living by working as tailors — and accused them of gangrape.
In their statements, the victims said they were not involved in the crime but the police pressed ahead with their prosecution.
For Lambu alias Sheruddin, Munna Ekhlakh, Naushad Ahmad, Sheebu and Mohammad Bade — and their families — the ordeal ended only when Additional Session Judge Brijesh Kumar Mishra acquitted them on Saturday.
In his order, the judge observed: "There are contradictions among the eyewitnesses and witnesses regarding the timing of incident, identification of accused and other circumstantial evidence. The court cannot deny the incident, but the accused do not appear to be the culprits."
"We had been pleading for years that they are innocent, but no one listened to us. The police framed them at the behest of a Samajwadi Party leader," alleged Razia, Naushad's mother.
"Who will compensate for our sufferings? My husband was the only earning member in the family. I had to beg and work as a maid to fight his case," said Lambu's wife Nagma.
On the night of the incident, three persons entered the madarsa, run by Wasiullaha — the brother the alleged mastermind of Varanasi temple blast Waliullah — at Birampur under Kareli police station. They abducted two girls. Later, two more persons joined them and raped the girls on the bank of a nearby river.
Although the Kareli police station was informed, the policemen did not visit the madarsa the same night. On Janauary 18, they lodged a case of molestation. As the news of the incident and the role of the police spread, protests broke out. On January 19, the police changed the case to that of gangrape, trespass, insult and threat to life.

March 10 2009: Oslo, Norway. Sarah Azmeh Rasmussen, a Norwegian lesbian ex-Muslim of Syrian origin burns a hijab in on International Women's Day to protest against repression of women in Islam. After the official ceremony marking International Womens Day in Oslo, Sara Azmeh Rasmussen burned a hijab in front of the crowd.
The burning was announced beforehand in the media by Rasmussen. Although she was hit in the head with a snowball, she said she had been expecting much worse.


I am bad at remembering birthdays,
but here is one I choose that should be forgotten
Poor women take a lunch given by rich people as charity on the occasion of 'Eid Milad-un Nabi,' celebration of the birth day of Islam's Prophet Mohammed in Herat, west of Kabul,
Kashmiri Muslims raise their hands for prayers as a head priest displays the relic of Prophet Mohammed (unseen) on the Friday following the birthday of prophet Mohammed in Srinagar, Thousands of Kashmiri Muslims gathered at the Hazratbal shrine, which houses a relic believed to be a hair from the beard of Prophet Mohammed, to offer special prayers.
Chechens carry their national flags during large-scale celebrations of the Prophet Muhammad's birthday in front of the Heart of Chechnya mosque in downtown Grozny,

March 10, 2009: Grozny, Chechnya region asked parents of boys born on Prophet Mohammad's birthday to name their children after the Muslim prophet, Russian media reported Monday.Chechnya's leader Ramzan Kadyrov added that every boy born on March 8 and March 9 will also receive 50,000 roubles ($1,394) — a hefty sum more than double Russia's average monthly wage.
State television channel Vesti 24 showed rows of newborn babies sleeping in a hospital in Chechnya's capital Grozny who will be named Mohammad Monday. Earlier, the capital sent fireworks into the early morning skies around a lit-up mosque.
"I ask their parents to name the boys after Mohammad," Interfax news agency quoted former rebel turned Kremlin-loyal leader Kadyrov as saying.
Some analysts say that in return for quelling rebel attacks, the Kremlin has let Kadyrov usher in some Islamic-inspired rules, such as requiring women working in government offices to wear headscarves and long skirts, and imposing periodic alcohol bans.
March 10, 1798: Cairo, Egypt. Napoleon Bonaparte Celebrating the Birthday of the Prophet Mohammed during his Campaign on Egypt
March 10, 1861: In 1848, El Hajj Umar Tall's Toucouleur army, equipped with European light arms, invaded several neighboring, non-Muslim, Malinké regions and met with immediate success. Umar Tall pressed on into what is today the region of Kayes in Mali, conquering a number of cities and building a tata (fortification) near the city of Kayes .
In April 1857, Umar Tall declared war on the Khasso kingdom and besieged the French colonial army at Medina Fort. The siege failed on July 18 of the same year when Louis Faidherbe, French governor of Senegal, arrived with relief forces.
After his failure to defeat the French, El Hadj Umar Tall launched a series of assaults on the Bambara kingdoms of Kaarta and Ségou. The Kaarta capital of Nioro du Sahel fell quickly to Umar Tall's mujahideen, followed by Ségou on March 10, 1861.
While Umar Tall's wars thus far had been against the animist Bambara or the Christian French, he now turned his attention to the smaller Islamic states of the region. Installing his son Ahmadu Tall as imam of Ségou, Umar Tall marched down the Niger, on the Massina imamate of Hamdullahi. More than 70,000 died in the three battles that followed until the final fall and destruction of Hamdullahi on March 16, 1862.
March 10, 1948: The Indian Union Muslim League is founded, by remnants of the old Muslim League. IUML is a Muslim nationalist political party
The party has roots in the All India Muslim League, which advocated the creation in Pakistan in the run-up to the independence of British holdings in South Asia.
March 10, 1978: Three bombs exploded under cars owned by Turkish diplomats in Athens, injuring a Turk, two policemen and a passerby. Secret Armenian Army perpetrated the attack to expose the world to the Islamic genocide of Armenians in 1915.

March 10, 1979:
Israeli troops killed four Palestinian infiltrators in Tel Aviv. These Islamic terrorists were planning on taking hostages in Israel during President Carter's visit and using the people as bargaining chips. The jihadists carried explosives and other terror-related materials, in addition to leaflets indicating they intended to take hostages in a bid to force Israel to free convicted terrorists who were now serving sentences in Israeli prisoners.
March 10, 1980:
Armenian Marxists claimed credit for bombing the Turkish Airlines office in Rome's Piazza della Repubblica. The Armenian Secret Army killed two people in the blast and injured 12 others. A second bomb was calculated to kill or wound those drawn to the scene. An anonymous caller condemned: "Turkish fascism and Italian imperialism which ignore the Armenian cause."
The murderers were right and wrong at the same time. Killing innocent civilians for the acts of their parent's government was wrong. It was right to bring attention to what happened in Armenia. The slaughter of the Armenians demonstrated the corrosive nature of Islam, corrupting the moral judgment of the Turkish Muslims sufficiently for them to believe that terrorizing, torturing, robbing, exiling, raping, enslaving, and slaughtering two million defenseless Christians was a good thing to do. Moreover, the religion of Islam is behind the Turkish cover up and denial of the Armenian genocide. The religion of lies and deceptions fosters a climate in which a denial of the facts of history is not only common, but required for Islam to survive. The historic ties of Jews to the land of Israel and Islam's role in the Holocaust are prime examples of Islamic revisionist history. So are all of the Qur'an's corruptions of biblical patriarchs and prophets.
March 10, 1981:
American Ambassador John Gunther Dean escaped attempt as he was riding from the Christian sector of Beirut to the Muslim side. The shooting occurred as President Elias Sarkis was meeting Syria's Hafez al-Assad in Damascus to discuss continuing political violence in Lebanon.
March 10, 1985
:
A Lebanese Muslim suicide car bomber killed 12 Israeli soldiers and wounded 14 others in a convoy. A young woman's body was found among the remains. The Lebanese National Resistance Front, an affiliate of the Syrian National Resistance Party, claimed credit as did Islamic Jihad and Hizballah.
March 10, 1987:
Following a Turkish air raid against Kurdish targets in Iraq, Kurds in several countries staged protests. Twelve Kurds in Duesseldorf completely destroyed the office of the Turkish Airline.
March 10, 1988:
A bomb detonated outside the Saudi-American Bank in Istanbul. The bank was affiliated with American Citibank.
March 10, 1991
:
In what was described as a "message to Secretary of State James Baker," a Palestinian stabbed four Israeli women at a bus stop in Jerusalem – killing all of them. Secretary of State James A. Baker III was to arrive the next day on a peace-seeking mission in Israel.
Sixteen years later, the same man would chair the Iraq Study Group and author a document which said that the best way to get America out of the mess it had made in Iraq was to force Israel to give much of its land to the Islamic terrorists who murdered these four women. Baker evidently missed the message. So had America.
March 10, 1993: In Yemen, a bomb exploded outside the British Embassy in Sanaa.
March 10, 1993: A UN resolution condemned Iran for sponsoring terrorist attacks on its opponents in Asia and Africa. There were no sanctions attached to the admonition.
March 10, 1994: Al-Qaeda Affiliate Kills Two German Intelligence Agents
sEL('1626004942-25653′,'25653′)An al-Qaeda affiliate group, al-Muqatila, allegedly kills two German intelligence agents. The agents, Silvan Becker and his wife Vera, are in Libya when they are killed. In 1998, the Libyan government will issue an arrest warrant for Osama bin Laden and several others for their murders
Counterterrorism expert Rohan Gunaratna will later write, "According to the German secret service, Becker was their Arabist and his untimely death gravely affected Germany's ability to effectively counter the growing al-Qaeda infrastructure in Germany.
March 10, 1999: In France, 6 Libyans were convicted in absentia. They were sentenced to life for the UTA bombing.
March 10, 2001: Palestinians shot and injured a Petah Tiqua resident. The gunfire came from Hebron's Abu-Sunaynah neighborhood and was directed at Jews in the city's Gross Square.

On This Day Since 9/11
March 10, 2002: Chak Seri, India. The Mujahideen abduct two civilians, later executing one of them. Fate of the other is unknown.
March 10, 2002: Akora Khattak, Pakistan. Bomb rocks a local exhibition, killing at least two
March 10, 2003: Hebron, Israel. One Israeli is killed and four more injured after roadside attack by Palestinians.
March 10, 2003: Pikit, Philippines. Muslim rebels stop a bus full of commuters, kill two, and then take dozens hostage.
March 10, 2003: Kashmir, India. Three civilians are killed in separate attacks by Muslim terrorists.
March 10, 2004: El Harrach, Algeria. The Salafist group for Preaching and Combat gun down a local cleric.
March 10, 2004: Basra, Iraq. Two Iraqi women, on their way home from working laundry at a coalition base, are shot to death.
March 10, 2005: Mosul, Iraq. Devout Sunni blows himself up inside a Shiite mosque, taking fifty lives and leaving about a hundred other people badly injured.
March 10, 2006: Samarra, Iraq. Two car bombings leave three civilians dead
March 10, 2006: Fallujah, Iraq. Eleven people are killed by a suicide truck bomber at an intersection.
March 10, 2006: Van, Turkey. An apparent Fedayeen suicide bombing leaves two other people dead.
March 10, 2006: Makhachkala, Dagestan. Radicals plant a bomb under the car of a government official, killing him and badly injuring his driver.
March 10, 2006: Graida. Sudan. The Islamic government targets six villages, killing at least twenty-seven people and injuring dozens more including women and children.
March 10, 2006: Kirkuk. Iraq. A civilian is killed by gunmen, and another ten injured. Jihadis also kidnap four women.
March 10, 2006: Jandola. Pakistan. Islamic fundamentalists murder a man, then circulate pamphlets as a warning to others.
March 10, 2006: Kaduna. Nigeria. Angry Muslims shoot into the house of an Anglican bishop, killing one person and injuring another.
March 10, 2006: Baghdad, Iraq. Six bodies are found bound and executed.
March 10, 2006: Quetta, Pakistan. Twenty-six people traveling to a wedding party are blown to bits by a terrorist landmine. Another two die of injuries overnight.
March 10, 2006
UK: Six Year Old Girl Burned To Death For Muslim "Honor"
Police have identified the six-year-old girl who died in an arson attack on her Birmingham home.
Alisha Begum was trapped in the house on Bayswater Road, Perry Barr, after two men threw petrol through the front door on Friday following a disturbance.
Her mother and four siblings managed to jump to safety from a first floor window. They received minor injuries.
Detectives are treating the death as murder and are linking the fire with an earlier incident at the house.
The children are aged between five and their late teens.
It is thought their father returned from abroad this weekend, after the incident happened.
'Callous and brutal'
West Midlands Police said the two Asian men, wearing dark clothes, burst into the house at 2345 GMT on Friday and threw a substance, believed to be petrol, into the property.

September 20, 2006
Two men murdered a six-year-old girl by setting fire to her house to warn her brother off a relationship he was having, a court heard yesterday.
Alisha Begum suffered 95 per cent burns and died after a masked man burst into her home, sprayed petrol around and set it alight. The fire spread so quickly that members of her family had to jump out of upstairs windows to escape.
Birmingham Crown Court heard the attack was planned by Hussain Ahmed, a 26-year-old dentist, and Daryll Tuzzio, 18, after Ahmed found out his 15-year-old sister was seeing Alisha's brother, Abdul Hamid, 21. Yesterday the two men went on trial accused of murder and the attempted murder of nine of the girl's relatives who escaped from the blazing house in Aston, Birmingham.
Adrian Redgrave, prosecuting, said: "One hears of so-called honour killings though one may wonder how by any stretch of the imagination there can be any honour in what happened here, resulting in the death of a six-year-old child.
"Hussain and his associates knew that at the house there was not only Abdul Hamid, and he was the one they were trying to get at, but they knew full well that there was a whole family living there." The jury heard that Mr Hamid started a relationship with the teenager, Meherun Khanum, towards the end of last year.
Her family were furious when they found out and 24 hours before the fire Mr Hamid received a threatening telephone call warning him off. Mr Redgrave said that shortly before midnight on March 10, a masked figure burst through the front door of the family home and sprayed petrol in the hall before lighting a match.
The court heard Alisha was in her bunk bed at the time and died at Birmingham Children's Hospital the following day.
Mr Redgrave described the attack as "an act of pure wickedness" and said it was a clear attempt to get at Mr Hamid for forming an "unauthorised relationship" with Meherun. He said there was no evidence Ahmed actually started the fire but it was clear he "directed" the attack.
March 10, 2007: Dera Ismail Khan, Pakistan. A government employee is killed by radical Sunnis while buying milk at a grocery.
March 10, 2007: Mogadishu, Somalia. A bomb kills one person at a pasta factory.
March 10, 2007: Arghastan, Afghanistan. Religious extremists cross over from Pakistan and kill eight Afghan border guards.
March 10, 2007: Baghdad, Iraq. Freedom fighters murder over two-dozen Iraqis in at least five separate attacks
March 10, 2007: Kirkuk, Iraq. Jihadis rocket a bus station, killing at least three innocents.
March 10, 2007: Srinagar, India. One member of a security patrol is killed when the Mujahideen hurl a grenade at them.
March 10, 2007: North Waziristan, Pakistan. A Pakistani solider is shot to death by Islamic militants at a checkpoint.
March 10, 2007: Dwatoi, Pakistan. A Pakistani soldier is killed by radical militants along the Afghan border.
March 10, 2007: Yala, Thailand. A Buddhist man and wife are brutally slain by Muslim gunmen as they are driving home from market
March 10, 2007: Tral, India. Two civilians are killed when fleeing militants use them as human shields.
March 10, 2008: Baghdad, Iraq. Five US soldiers and one Iraqi are killed when a Fedayeen suicide bomber walks up to a foot patrol on a city street and detonates.
March 10, 2008: Badghis, Afghanistan. Religious extremists ambush and kill a local policeman.
March 10, 2008: Suleimaniyah, Iraq. Three civilians are killed by a suicide bomber outside a hotel.
March 10, 2008: Kanaan, Iraq. A 5-year-old child is among three people murdered by a female suicide bomber.
March 10, 2008: Liverpool, UK. A 17-year-old is beaten to death by other Muslims who accused him of violating Islamic law by drinking alcohol.
2 Responses to "THIS DAY March 10"
March 23, 2012 at 2:03 pm

how to overcome fear, how to overcome fears, how to overcome phobias…

[...]THIS DAY March 10 « Avid Editor's Insights[...]…

May 1, 2012 at 2:33 am

Freezing Warts…

[...]THIS DAY March 10 « Avid Editor's Insights[...]…